It's never too late to discuss with your parents what they want in the event their health situation changes unless it's after something happens. Don't wait to until you're in crisis mode to talk to your parents. Emotional stress levels will be high enough. Don't add to them.
It is likely that you currently see your parents as being fiercely independent. As a result, you may find that it is very difficult to initiate a conversation on the possibility of needs occurring in the future. Before starting the conversation, there are a few points that you should have at your disposal and a few considerations that should be made.
Long-term Care Is Expensive!
You really need to discuss this with your parents and how it will be paid for. The cost is based on the type of care they may need, how long they may need it, what type of medical care may be needed the future, and how will they pay for it?
In 2018, the average monthly cost of a private room in a nursing home in Texas was approximately $6,540, or over $78,000 per year. Source: https://www.nolo.com
A national median rate per day cost for long-term care in a nursing home is $225 for a semi-private room and $253 for a private room. This typically covers room, board, meals, housekeeping, laundry, life enrichment activities, and transportation.
Cost of Nursing Home Care vs In-Home Care
The cost of nursing home care and in-home care will vary depending upon a number of factors: location, amount of care needed, and the level of care that is required. The average cost of care has a vast range between each state, with higher costs being in regions where the cost of living is higher. One might think that home care is always the least expensive option, but depending on the aforementioned factors—particularly concerning those with special needs or 24 hour care— this may not be the case. However, here are summaries of the national averages of common care levels to give you an idea of what to expect.

How to know when a loved one needs nursing home care:
Health and medical issues.

The person has late stage Alzheimer's or dementia.

The person has other health conditions combined with dementia.

There are more frequent accidents and injuries at home.

An older spouse is having trouble managing the caregiving.

An adult child is struggling with other responsibilities.
Nursing Home Average Costs
On average, a nursing home costs $225 daily for a semi-private room and $253 for a private room. Monthly charges range from $6,844 to $7,698 for semi-private and private rooms respectively. Annual costs range from $82,128 to $92,376 for full time nursing home care. Additional costs may be incurred if dementia, memory care or other special services are required.

Could your parents rermain at home with home care?

Home care allows for a more personal, one-on-one relationship with the caregiver. Seniors are able to remain as independent as they are able, rather than needing to turn over basic tasks to nursing home professionals. In-home care is often less expensive than care out of the home. Allows them to age-in-place...see below.
In-Home Care Average Costs
The cost of in-home care will depend on the type of caregiver you are seeking and what qualifications you prefer them to have. Non-medical paraprofessionals like home health care aides that provide assistance with ADL's, housekeeping and companionship services average $20.50 per hour, $164 daily, $4,920 monthly and $59,040 annually for 40-44 hours of care per week.

Aging in Place
Is Remaining at Home a Possiblity?
Ask them...is your home still appropriate for your needs? Can you still manage stairs or are you better off on one floor? Does your home have safety hazards that need to be removed? Could simple modifications make it easier for you or more convenient? Should you think about living somewhere else?
Research has shown that, as people age, they prefer to continue living independently, preferably in their own homes and 'age in place'.
While adult children often worry about their parents' situation, it can be difficult to know if parents really need, or want, help from their children
.
Talking with your parents a head of time and understanding what they want, allows for the opportunity to honor their wishes, especially if it's not possible for them to communicate at the time due to a stroke or other debilitating illness.
If there are other siblings involved who perhaps have other thoughts and opinions about the situation, there is no room for discussion, as your parents have made their decision(s) clear to everyone.
Geriatric Care Managers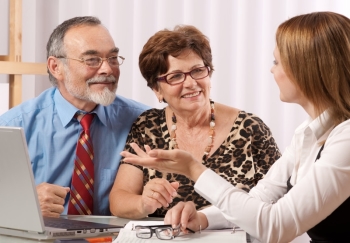 You could also consider hiring the services provided by a Geriatric Care Manager. The following suggests ways to initiate the converstation with your parents about their health, finances, and day-to-day lifestyle.
Initiating the Conversation
For many adult children, finding the right way to bring up the subject of independent living is a major stumbling block. Experts in communication and aging suggest some ways to break the ice.

Let your parents know what you need.
Example: "What kind of help would you want if you were not able to do everything yourself and you wanted to continue to live safely in your home."

Share your own emotions about your parents' changing situation and encourage them to do the same. Example: "I know you have always prided yourself on being independent. I imagine it's very difficult to ask for help. Is that right?"

Raise the issues indirectly. Relate it to someone else's experience or something you have read about or seen on television.
Example: "I know you're taking pills for your arthritis, heart, and cholesterol. How do you keep track of which pills to take when? Would it help if you had one of those medication organizers you can buy in the drugstore?"

Watch for openings.
Example: "You mentioned having problems with your eyesight. How does it affect what you normally do, like reading or driving?"

Give your parents a list of questions or concerns you have. This could be about their current and future situations. Schedule a time to sit and talk about your concerns. (Consider your own relationship with your parents when attempting this.)

Dealing With Resistance
Respect your parents' feelings when they make it clear that they want to avoid a subject. You may want to try again at another time, using a different approach.

Involve Others
This might be a third person that your parents respect, such as a doctor or clergy, or other family members. You might want to hold a family meeting at which everyone discusses concerns and develops a specific, mutually acceptable plan to resolve them. Investigate community resources. There are often community resources readily available to help older people remain independent, such as transportation services or home care. Check them out. If it's clear to you that your parents do need assistance, you'll be ready to share options with them.

Focus on Key Points
The first topic to address is your parents' own perceptions about their current needs, concerns, and worries for the future, as well as their hopes and goals. There are some major issues that can affect an older parent's ability to remain independent. Asking appropriate questions can help you avoid making assumptions about parents' preferences.

Do They Need Help?
Ask them...do you need help with household chores, such as cleaning, fixing meals, or taking care of the house or yard? Does trouble seeing interfere with your daily activities? Can you easily hear a knock at the door or the telephone ringing?

Can you get to your doctor appointments? Is driving the car getting difficult? Do you have reliable transportation for shopping, medical visits, religious services, and visiting with family and friends? If it's obvious assistance is needed you could always consider arranging for in-home care.

Health Issues
Ask them...what health problems do you have? Are your prescriptions current? Have you been to the doctor lately? What did he or she say about your health? Did the doctor review all your medications to be sure there are no possible bad reactions? Are you having any problems taking your medications? Could you use some help remembering what pills to take and when to take them? Can you pay for the medicines the doctor tells you to take?

Finances
This topic is a particularly tricky area for adult children and their parents to discuss. You may want to be less direct than the following questions, depending on your comfort level.

Ask them...what are your current and likely future bills? Can you pay for what you need? Do you need help getting government or pension benefits? Are your Social Security and pension checks deposited directly in the bank? Is all your financial information in one place? What about getting extra income from the equity in your house?
Have you thought about how you might need money in the future to help you do everyday activities you might not be able to do yourself? Do you have any bills you can't pay?


How Will They Pay for Health Care?
What kind of health insurance do you have? Medicare? Medicaid or other insurance?
Has it paid your health care bills so far?
Do you have long-term care insurance?
Have you paid the insurance premiums and are they up to date?
Would you like help filling out forms like insurance claims?
Have you been told that Medicare or your Medigap insurance won't cover some medical tests or procedures that the doctor has ordered?
Do you have questions about Medicare or Medicaid?
While you probably won't want to discuss all these matters in one conversation, they are issues to keep in mind and to raise as your parents' situation changes. You might also want to ask your parents what issues concern them the most.
Keeping the Conversation Positive
Avoid role reversal. Talking to parents and helping them meet their needs doesn't mean you are "parenting" them. The most productive interactions come when parents and older children are equal in the relationship.

Be prepared to let your parents make their own life choices, even if you don't agree with them. Your parents have the right to make their own decisions (as long as they are not impaired with Alzheimer's disease or other dementia).

The Bottom Line...
As people age, they prefer to continue living independently preferably in their own homes. Talk to your parents about their situation so you can determine whether they need or want your help. Consider emphasizing the issue if your parents' health or safety is at risk.
This must be a personal decision, recognizing your parents' right to be in charge of their own lives. Act firmly, but with compassion if you decide you cannot avoid intervening. Such as...."Mom, Dad, we can't ignore this any longer. We have to deal with it."
Related Articles About Healthy Aging: