Most people prefer to 'age in place' if possible in their own home. But to do so Texas families can expect to pay an average of $18.00 / hr. for in home senior care provided by a home health aide, and $33.00 a day for adult day services. And in the meantime, the cost of health care in Texas continues to rise.
Experts predict the costs associated with caring for people with Alzheimer's disease will reach $1.1 trillion by 2050, largely due to the aging boomer population.Ten million are anticipated to develop the disease.
This represents a 500 percent increase in combined Alzheimer's care costs to Medicare and Medicaid in the next 38 years, and forecasts an unsustainable burden on the U.S. health care system.
Cost of Long-Term Care in Texas
The average cost of assisted living in Texas, as of 2020, is $3,515 / month, which is slightly under the national average of $4,000 / month.
The areas of Texas with the most expensive assisted living include Dallas, Austin, Midland, Odessa, Victoria and San Angelo, where the monthly cost averages between $4,065 and $5,190. The most affordable assisted living in the state can be found in Corpus Christi, El Paso, Longview, and Texarkana, where it ranges from $2,250 to $3,100 / month. The areas of Waco, Amarillo, and Tyler have average monthly rates ($3,695 - $3,800) fairly consistent to the statewide average cost of assisted living. Memory Care, also referred to as Alzheimer's residential care, adds as much as approximately $1,138 to the monthly cost of assisted living. This is due to the increased level of care provided and the extra safety precautions.
Nursing Home Care: According to Genworth's Cost of Care Survey, on average in the United States, a private room in a nursing home costs $8,365 per month, or $275 a day. For a semi-private room, the average cost of a nursing home is $7,441 per month, or $245 a day. Multiple factors affect the overall cost of a nursing home stay. In Texas it's $4,798.00 for Semi-Private and $6,540.00 for Private.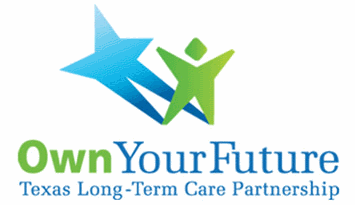 But there is help...Texas participates in the Texas Long-Term Care Partnership Program as an incentive for Texans to plan for their long-term care needs. Texas Long-Term Care Partnership-qualified policies provide some benefits, features, and consumer protections that are not available with other long-term care policies.

These additional features offer even greater protection of your financial resources, such as your home and savings. Only agents who have completed training required by the Texas Department of Insurance may sell Partnership-qualified policies.

Some of the most common long-term care services are covered by long-term care insurance, including:
Home health-care services, which must include skilled nursing care and physical therapy
Personal care in your home, which may include some homemaker services such as running errands or housekeeping
Adult day service
Assisted living care
Nursing home care
Other services offered by some policies include hospice care, respite care, care after a hospital stay, or caregiver training for family members.
Having a Texas Long-Term Care Insurance Policy can help preserve some of the financial security you worked your whole life to build. Thatís because for every dollar that a Partnership-qualified policy pays out in benefits, a dollar of your financial resources will be set aside when determining if you qualify for Medicaid.
Source: www.ownyourfuturetexas.org
Related Articles: