Long term care is the care you may need if you are unable to perform daily activities on your own. Most long-term care is not medical care. Long-term care involves a variety of services designed to meet a person's health or personal care needs during a short or long period of time. These services help people live as independently and safely as possible when they can no longer perform everyday activities on their own sometimes called Activities of Daily Living (ADLs) such as:
Other common long-term care services and supports are assistance with everyday tasks, sometimes called Instrumental Activities of Daily Living (IADLs) including:
Housework

Managing money

Taking medication

Preparing and cleaning up after meals

Shopping for groceries or clothes

Using the telephone or other communication devices

Caring for pets

Responding to emergency alerts such as fire alarms
Medicare, Medicare supplement insurance, and health insurance you may have at work usually wonít pay for long term care. See Payment Options
Long-term care is provided in different places by different caregivers, depending on a person's needs. Most long-term care is often provided at home by unpaid family members and friends. It can also be given in a facility such as a nursing home or in the community, for example, in an adult day care center or provided by home care agencies.
The Cost of Care in Texas
Texas families can expect to pay an average of $18.00 / hr. for in home senior care provided by a home health aide, and $33.00 a day for adult day services. And in the meantime, the cost of health care in Texas continues to rise. Most people prefer to 'age in place' in their own home.
The purpose of the Aging in Place
model is to prevent nursing home
admission for those individuals who
could have their long-term care needs
met in a community setting.
Choices in Care Settings
While the majority of people want to receive long term care services in the home theyíve always lived in, that option isnít always right depending on the need. Itís important to familiarize yourself now with the choices available so you can live life on your terms later. Figuring out where to receive care starts with knowing what the options are.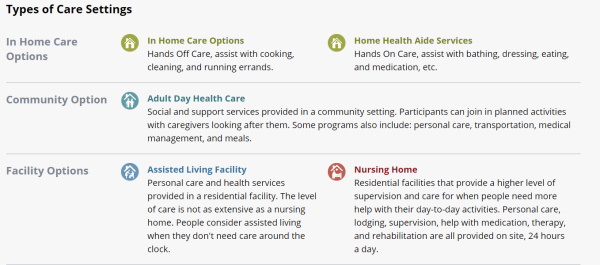 Long-term care also includes community services such as meals, adult day care, and transportation services. These services may be provided free or for a fee.
People often need long-term care when they have a serious, ongoing health condition or disability. The need for long-term care can arise suddenly, such as after a heart attack or stroke. Most often, however, it develops gradually, as people get older and frailer or as an illness or disability gets worse.
Long-term care can be expensive. Americans spend billions of dollars a year on various services. How people pay for long-term care depends on their financial situation and the kinds of services they use.
Related Articles: